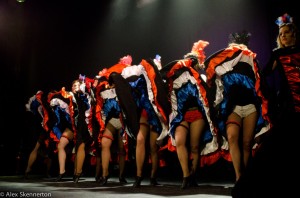 The Showgirl Academy's professional troupe continue to wow the crowds at their very own variety show.
Coming up to their one year anniversary The Flaming Feathers decided to celebrate in true showgirl style by putting on their very own Variety Showcase at Chapel Arts Centre in Bath.
The night went down a treat with a seductive opening number to 'Welcome to Burlesque' with live singing starlet Ms Laura Mai to a high-kicking CanCan finale that had the audience to their feet roaring with cheer and applause!
There is no denying that this group of 10 ladies is seriously talented, displaying a wide range of dance styles from Burlesque, Charleston, CanCan, Fan Dancing, Tap, Jazz, Jive and Ballet that were full of confidence, energy and executed to the highest of standards.
To find out more about The Flaming Feathers please contact Claire Phipps info@theshowgirlacademy.co.uk