Puttin on the Ritz!!
by Goldie Lox - July 9th, 2012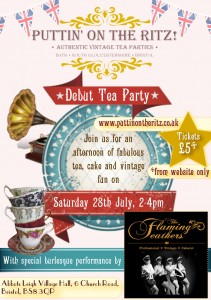 Join 'Puttin on the Ritz' for an authentic afternoon of tea, cake and vintage fun!


Puttin on the Ritz are hosting their first tea party on Saturday 28th July at Abbots Leigh Village Hall, Bristol BS8 3QP.
Tickets are only £5.00 and can be purchase here: http://puttin-on-the-ritz.net/


With special guest performers The Flaming Feathers this is no average afternoon tea and not one to be missed!